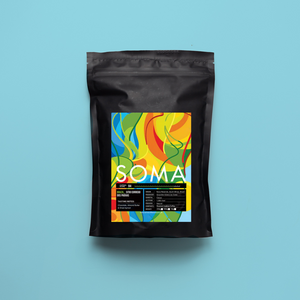 BRAZIL - SITIO CORREGO DOS PADUAS
€12.00
Tracked Shipping in Ireland | Made in Ireland | Orders include an Aran Quinn illustrated postcard 
Add a personalized message with a handwritten card or record a video message that will be sent along with your gift. Spend €50.00 or more and enjoy free shipping to Ireland. 
Soma Coffee Company - Specialty Coffee Roasters from Cork
BRAZIL - SITIO CORREGO DOS PADUAS
250g Pouch of Coffee (Whole Bean or Fine Grind)
 Brazilian Coffee, we love them, you love them, they're a crowd favourite! This one is grown by Givanildo Gülere da Costa and his brothers on his farm, Sitio Corrego dos Paduas.
This coffee is a treat combining the comfort of Chocolate and Almond Butter, followed up by a nice sweet hit of Dried Apricot. Heavily filtered brews (like a Chemex for example) will offer up more acidity and highlight more of the fruit on the coffee, while unfiltered brew methods such as French Press or Espresso will let the chocolate flavours be the star player.
   Cocoa From around the world. Creations from Ireland
---