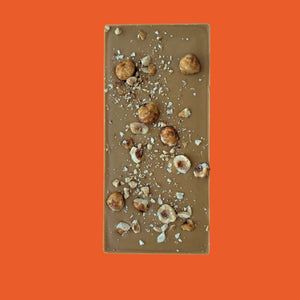 Maple & Miso Hazelnuts Caramel Chocolate Bar
€5.75
Tracked Shipping in Ireland | Made in Ireland | Include a handwritten note on an illustrated postcard

  Spend €50.00 & receive free shipping in Ireland. 
Caramelised White Chocolate
70g Solid Bar 
December 2022 Tasting Club Bar
 Inspiration - Christmas Traditions
On Christmas Eve, we carve our ham. It is joined by giant bowls of winter coleslaw with red cabbage, beetroot and fennel and enormous macaroni cheese dishes to feed the army of us there. This meal is always finished with a gleaming maple cheesecake. A rich baked cheesecake, butter yellow and topped with a pool of gleaming maple syrup.
Maple & Miso Hazelnuts - Caramel 32%
Maple and miso are flavours in that Bean and Goose space of salty & sweet. Maple syrup has an edge that honey doesn't. It is why it works so well with the earthy saltiness of miso. Miso is a robust flavour and challenging to articulate, but it is definitely salty and earthy. It is the epitome of umami. Together they bring sweet saltiness to the roasted hazelnuts.
Tasting Board Recommendation
Enjoy with an Irish coffee. The maple syrup in the bar pairs perfectly with coffee and whiskey. To bring out the miso flavour in the bar add clementine segments, toasted walnuts and strong white cheddar to the your tasting board
 Cocoa From around the world. Creations from Ireland
Vegetarian Friendly.
Ingredients: cocoa butter 30.0%; sugar 29.0%; milk powder 25.0%; milk sugar 5.5%; whey powder (milk) 5.0%; skimmed milk powder <1%, lecithin <1%; natural vanilla flavouring <1%; salt 2.5%; caramelised sugar 2.0%; emulsifier: soya hazelnut, maple syrup, miso, Salt BBD. 28.06.23 #22-11-TC-70
Allergen advice: see ingredients in bold. May contain traces of wheat, eggs.
---